"I wanted to mold this town (West Chester, PA), to help it grow. That way, the properties would one day be worth what I was putting into them." – Stan Zukin, WC Press 2018
Our story began over 50 years, when our founder Stanford Roland Zukin (better known simply as 'Stan') began a small, local business (Thatcher's Pharmacy) with his twin-brother, Ronald, that quickly became a cornerstone of our beloved downtown, West Chester, PA. It's hard to believe the now flourishing borough that we all know, love, and interact with today was once–in many respects–considered desolate with over 60% of its commercial spaces vacant.
During this period, business came and went, but Stan and Ronald were armed with an incredible work ethic that they inherited from their grandfather, Abraham, that pushed them forward to success by picking up where others businesses left off. If a Pharmacy closed at 3PM, Thatcher's stayed open til 5PM. It was through this type of thinking and preternatural understanding of business execution, that allowed the Zukin Brother's to flourish and fix their eyes on other business opportunities, namely real-estate.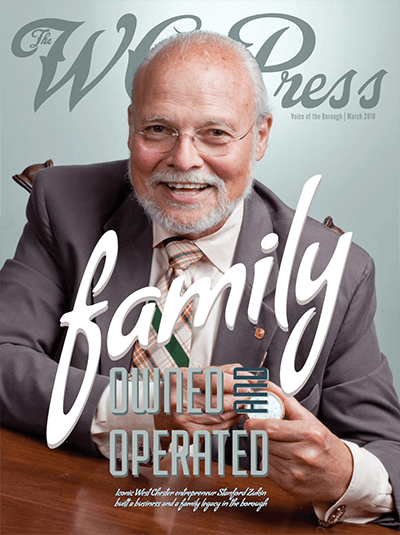 Note: Image of Stan Zukin is property of WC Press. Taken by Adam Jones
Only a few years after Thatcher's Pharmacy opened, in the late 1960s, the Zukin Brother's purchased their first property at 7 North Church St. at auction for just $15,000, moving Thatcher's to the upstairs floor, while renting out the lower level to a business who simply sold produce. A few years later, the two brother's purchased the next door building, 9 North Walnut, eventually combining the two properties which is now home to what is easily considered one of West Chester's favorite, Italian restaurants, Limoncello. But, this wasn't enough. The Zukin Brother's had a vision…a dream. They quickly learned that banks would gladly loan them money to renovate a property if they owned more properties. Armed with this knowledge, Stan and Ronald, did just that They began buying more and more properties, renovating one while purchasing another. Two properties quickly grew to three, and three properties– over the years–slowly grew into to what is now over 100 properties owned in West Chester, PA with over 400 rental units.
During the '90s, other family members were introduced into the family business, including Stan's daughter and sons; nevertheless, Stan always credited his personal success to the love of his life, his wife of over 50 years, Elsa Zukin. Sadly, in January 2018, the world lost Stan Zukin. Yet his legacy continues in the life of his son, Scott Zukin, president of Zukin Realty who joined the family business decades ago, continues to grow the family business just like his father Stan did so many years ago, by doing it his way.
Today, Zukin Realty specializes in student housing rentals, non-student apartments, commercial real estate for rent, and homes for sale in West Chester PA. Contact Zukin Realty today for all your real estate needs.