If you're seeking a day of pampering and indulgence, it's hard to find a better experience across the U.S. than the one you will experience in downtown West Chester, PA. From early morning breakfast and coffee at Gryphon Café to late night cocktails at Bar Avalon, you can literally plan an entire day from morning til night without any down time in between.
If you haven't already done so, one place you'll want to experience in the borough of West Chester is Balance Hair Spa. For over a decade, Balance Spa has been one of Chester County's premier salons. We recently spoke with Biff Piner, co-owner and salon coordinator of Balance Hair Spa Studio, to find out what makes them so special. So without delay, here is Zukin Realty's Commercial Business Partner Spotlight of the Month interview with Balance Hair Spa.
Balance Hair Spa – Be Perfect in Balance
Note: All Images Property of Balance Hair Spa
Balance Hair Spa opened its first location over 13 years ago in Exton. What sets you apart from other salons?
We have a team that works very well together. This allows clients to have a variety of stylist options when making appointments. Many of our clients will see multiple stylists at our salon. They feel welcome to see anyone they would like without the guilt of having a different stylist or difference of opinion. This also makes it easier to make a last minute appointment.
What inspired you to open your second location in West Chester?
We have always enjoyed West Chester for it's main street appeal and the festivals it hosts throughout the year. We decided to open the studio location out of demand from our clients who wanted us to have a location in town and for employees who also wanted to work out of West Chester.
You have a pretty dynamic and talented team. How were you able to gather such an awesome team?
We are happy that our team have all come to us through recommendations from other cosmetologists or representatives in the industry or referrals from our existing team. We are always looking for stylists of all ethnicities and who are up for learning new techniques in our industry and want to be part of a team that work well together.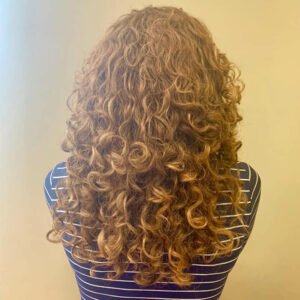 You offer a variety of services in your Exton location. Is there any future plans in adding more of the services at your West Chester location?
Due to the size of our studio, we only offer our hair services (Color, Cuts, and Texture) , make up, and facial waxing at our West Chester location. Our Exton location has a spa so we also offer facials, massage, spray tanning, and full body waxing there.
You seem to have some amazing reviews online, how do you keep your clients coming back and continuing to recommend your studio for their friends and family.
Most our business growth comes from referrals. Because our clients visit multiple stylists at our salon, they feel like family. This makes them more invested in our business and our team of beauty professionals. We offer a referral discount to clients who send us a new client and we offer birthday discounts to clients who offer their address and email.
What are some new ways you are able to ensure the safety of your clients during COVID while providing a quality service?
Our salons have gone above and beyond to ensure the safety of our staff and clients. We are following all of the state guidelines as well as having our own guidelines to ensure everyones safety in our salon. This includes having clients leave all bags, purses , brief cases, or large items outside the salon. We offer UV light sterilizers for phones and books that can cleanse your phone in three minutes and a book in ten minutes. Clients may bring in a laptop as long as they remove them from any carrying case. We are only using every other station for proper social distancing and have placed curtains between our shampoo bowls. Our team wear masks at all times as well as a shield when washing your hair or offering any facial services. We have an hourly check list of cleaning procedures that we initial each hour and we preform a series of sterilization procedures between every client. We also launched an app this year that allows clients to make appointments, check into an appointment and a touchless check out of their appointment. We have gained many new clients due to our diligence and reputation at keeping everyone safe.
What excites you about the future of West Chester in the next 5 to 10 years?
We see all the new construction going on around town and are excited to welcome new residents and businesses to our town.