It is undeniable that in the past fifteen years tattoos have become more prevalent in U.S. culture. A once trademark of a subculture has now truly become a part of U.S. pop-culture. And that's a good thing. For many, tattooing is considered a fine art and the tattoos that they display are considered a distinctive feature of their personality. A few weeks ago,
Zukin Realty
had the opportunity to speak with the owner of High Rollers Tattoo Studio, Jason Riley, to find out more about
High Rollers Tattoo Studio
& what drives their success. Jason has an incredible outlook on the art of tattoo, and here is what he had to share.
An Interview with Jason Riley, Owner of High Rollers Tattoo Studio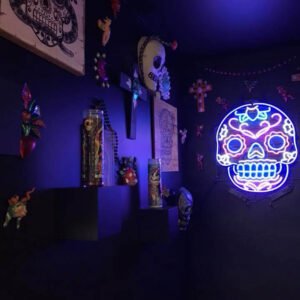 In the past 10-15 years, there is no doubt, Tattoos have grown in popularity leaps and bounds. What do you think propelled this cultural shift?
Without a doubt, tattoos are way more art driven than they ever have been. the best tattoos ever are being done today, and they'll be even better tomorrow. Accessibility is key. With the internet, magazines, and tv shows, we're able to see what artists are accomplishing around the world, and so are clients!
What sets you apart from other tattoo and piercing shops?
Honestly, we have our own artistic flair. All of our artists hand draw their work, so that it's unique to the individual.
Is there a certain style artists you have at High Roller Tattoo? I've seen your studio's work from traditional to portraits. Do you do a lot of collaborations with your clients on what they are looking for?
Our artists are not set on a certain style. We really try to see what the client is looking for and customize and adapt to what they want. Most of our work is collaborative with the client. With the easy accessibility of Facebook, Instagram and smart phones, we can collab with the client a lot before they even come into the shop.
It looks like you have the largest selection of body jewelry in the surrounding area. What made you decide to not just be a tattoo shop?
It really brings people in to look around in a clean and friendly environment. I would say that 8 out of 10 of our clients eventually get a piercing through our shop if they have gotten tattoo work. It does always keep our clients coming in.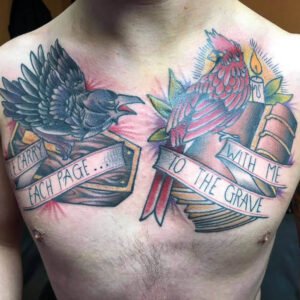 What are some new ways you are able to ensure the safety of your clients during COVID while providing a quality service?
I will say that we have always used hospital grade disinfectant procedures and wear gloves. Everything is wiped down when the client leaves. All of our artists and piercers are masked. We already had autoclave sterilization, but now a lot of our stuff is disposable, since this will be the safest way for our clients. We have also now limited the number of people who are in the shop at one time. Sometimes, we would have 1 person getting a tattoo or a piercing and they would bring a crowd of family and friends with them; like a bit of a party. We can no longer accommodate those groups. We are following the COVID guidelines and keep everyone safe as possible.
How do your clients reach out to make an appointment to either get work done or create a collaboration?
They can simply give us a call
 (610-430-3890)
to start the process. We can also be reached through our Facebook or Instagram pages. We used to be a walk-in studio, but now we are appointment only.
What excites you about the future of West Chester in the next 5 to 10 years?
West Chester is just a cool little town and it's always growing. I think the population of the town doubles when WCU starts up, so we always have fresh faces in town. There is always a new freshman class. West Chester is always a hot spot to come and dine.
Any closing thoughts you'd like to share?
Because we have been here for so long, I feel like the community of West Chester has embraced us as one of their own. Where tattooing was an 'outside' type of art, it's now become more mainstream. And with us being more established in town, we get a lot more professionals that come in too. We even have quite a few 'older' clients, who like a quiet, nice and clean place. There are no attitudes from our artists, we are a friendly place to come in to. We just had one of our artists tattoo their oldest client this year who was 80 years old! It's one of those things where she had a good experience and it's probably the only tattoo she will ever have. And she walked away knowing maybe a little bit of that stigma (of getting a tattoo and being in a tattoo shop) was taken away. And that's the kind of thing I've always prided ourselves on with our longevity, is not only good work but also a friendly and welcoming atmosphere. Our clients always say the work is good and it's a friendly place, and they often say they will be back because of this. We basically run a 'word of mouth' business here. One time I was at the hospital for a procedure and of course tattoo's come up in conversation, since I'm covered in them. And after talking to the staff that was working with me, about 80% of them were tattooed here! Even one of the nurses that I spoke to me said that we are one of the main attractions of West Chester! And that made me feel amazing! I love building this business, but to have someone in a major profession position say that 'You are embraced as a part of this community' is truly amazing.