La Tartine is definitely a favorite West Chester Restaurant that specializes in gourmet, Mediterranean Cuisine. From crepes to falafel, La Tartine's mouth watering recipes will leave even the staunchest Mediterranean connoisseur speechless. We recently had the privilege spoke to owner John Abi Khattar and here's what he had to share.
La Tartine |  Truly Mouthwatering Mediterranean Cuisine
Note: All Images Property of La Tartine
How did you get started in the restaurant business?
Well both my wife and I have allergies. She has a gluten allergy, soy and dairy. And I have tomato, egg and almond allergies. So it was hard for us to go out to eat and find a place that can accommodate all of our allergies without having to worry. And be sure to check that they change their gloves (when making certain foods with allergy sensitivities). We wanted to offer something that people with allergies are able to feel safe to eat, feel comfortable and just find something to eat that is gluten free, soy free, or vegan.
Then I was looking all over the place and when I started coming to West Chester, and I knew before the pandemic that I liked the vibe. And then this place was up (for lease).
Our whole idea was to accommodate the allergies. If someone likes falafel, we have that gluten free. And we have a wrap that is gluten free, instead of a pita wrap. And we do the fresh cold press juice to keep things healthy. And we also have smoothies, with a lot of organic stuff. All that I cook here, I also make at home.
Thank God, it's a blessing! I don't do anything different, I just greet people well and give them the food they ask for – good food and healthy food and everything is fresh. And people know what's in their sandwich, they can tell what's fresh and what's not. They know from the flavors. I really don't know what else I'm doing different, but thank God they are loving it. I don't do big batches. I'm here early and prepare everything I need for the day, and prepare fresh. And I keep an eye on everything. Anywhere from buying the product, to cooking it, to preparing it and to serving it. Like right now I am by myself. I am mostly here by myself or I have a helper for part of the day. I know every ingredient that goes into every dish. So that when a customer comes and asks what's in it, I know exactly because I made it.
La Tartine offers many vegan and vegetarian options on the menu, do you have a lot of customers looking for this?
Yes, we have a lot of customers that are looking. There are a lot of customers looking for a sandwich or a crepe, but can't find one gluten free anywhere. And even vegan, I started carrying vegan cheese for the feta for the spinach crepe. You know, you just have to accommodate. Because at home, we cook like that. We don't bring gluten at home. And we don't do anything with soy or dairy either. I know a lot of ingredients, especially for my wife. And she is very particular about every ingredient. I learn a lot from.
So a lot of our customers are vegan and gluten free. And I don't blame them. Because the way things are grown now in the states with all the pesticides and herbicides and everything else and it's messing with our digestive system. You know I never had allergies, with eggs, tomatoes and almonds. It just happened 10 years ago. And a lot of our customers told me that they never had allergies to gluten and now they are sensitive to gluten.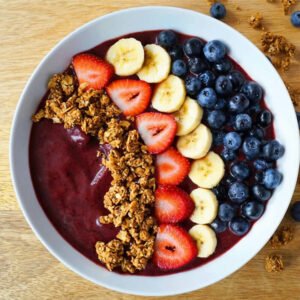 What are your most popular dishes?
The most popular sandwich is a fight between falafel and the mediterranean chicken. (For Mediterranean chicken) I pick the right cut for the chicken and (people love) the garlic whip that I make. I make a garlic sauce that is unbelievable, and it's very popular. And the falafel is another item that is vegetarian that I make from scratch. I buy the chickpeas and fava beans, I grind them myself and again I make everything from scratch.
And with the crepes is the Nutella, strawberry and banana. And for the savory one is the ham and cheese and the spinach feta.
And I offer a lot of organic strawberry and blueberry jams.
What are your saffs favorite dishes?
The Laham Bi Ajeen (Lebanese Meat Pizza). I buy organic ground beef and I mix it myself with spices, tomatoes, onions. It's like a thin crust pizza. That and the Za'atar (flatbread) is very popular in Lebanon or in the Middle East for breakfast which is made from tyme, dried oregano and they grind it up with sesame seeds and mix that with olive oil and spread it on top.
Plus my fridge in the front, I pick my drinks. I am very picky about all the drinks I have. Every drink, I pick myself. Believe it or not, I didn't start carrying Pepsi or Coke until about a month ago, because people always ask about it. I only had the healthy drinks. So I just started carrying one of each. It's just in case a customer really wants it, but all my drinks are hand picked. And I buy in small amounts to see what people like. They have probiotics in them, and healthy ingredients. And the same with our smoothies. I buy the fruit, I wash it, I cut it and I freeze it myself and then I use it in a smoothie. And our cold press juices are getting popular. And a lot of people don't know that I have cold pressed juice. But once they know, they come back for it.
Do you have any new dishes you are working on to add to the menu?
Yes, I'm working on hopefully opening early for breakfast and adding a couple new crepes. But opening early depends on staffing. Hopefully it will open early starting in the summer (time).
And I'm going to add rice, and make small batches and see what people like. I make really good rice with angel hair pasta and saffron. Saffron rice with angel hair pasta! I've been trying it here and there, and people are loving it. And I'm going to offer that gluten free with rice noodles.
What excites you about the future of West Chester in the next 5 to 10 years?
The future's looking good, especially with a good landlord like Scott Zukin. Really, Scott is a gentleman. He helped us so much during the pandemic. We went through it together, you know it was tough on everybody and he understood. And it's good to have a landlord like that. And he likes my fresh juice and falafel!
People (in West Chester) are really nice and people understand that when I'm (working) by myself and I'm busy, they wait without complaining and they know what everyone is going through. Very nice people, they are very understandable. I'm very thankful.
Any closing thoughts you'd like to share?
When we opened, at the start of the pandemic I was still working my other job (that's why the hours are limited). I had to keep my other job for a year and half since the restaurant didn't pay for itself yet. So I was juggling both jobs. And now that I only work here, I can't extend my hours yet. I have wanted to do more hours, but I need to find good help. There is help in the front, but it's hard to find help in the kitchen for a lot of the preparation. But I'm looking (and I'm hiring).