One of the many perks of living in the borough of West Chester is the ability to quickly and easily commute to-and-fro by whatever means conceivable. And it goes without saying that West Chester is truly a town that has an obsession with cycling. Each weekend, the borough is filled with cycling teams and clubs, and each year thousands ascend upon the borough for the GWCCC Iron Hill Twilight Criterium.
Nevertheless, students and residents cyclists alike who live in either efficient off campus student housing or smaller residential apartments in West Chester know that sooner than later they will need to figure out just how to properly store their bike efficiently or accept the fact they'll be tripping over it daily. An indoor bike rack is essential.
Below is our short list of indoor bike racks that are lightweight, strong, and can even accommodate or two bikes in some cases. We think we found something, but you be the judge.
Indoor Bike Racks – Our Top Picks
Steady Rack Classic Rack
The Steady Rack Classic Rack is a fantastic wall bike rack that allows you to hang your bike vertically in tight spaces such as behind a door, or in a tight corner. It folds up and down much like an old fashioned ironing board. To hang your bike, simply tilt the bike back on its rear well while securing the front wheel in the Steady Rack.
The 'Michelangelo' of Apt Bike Racks – The Delta Cycle Gravity Stand
This wall bike rack is the 'bees knees' of bike racks. Quickly and easily mount this to any indoor wall and you can quickly mount up to two bikes easily while keeping them completely out of the way but still easily accessible.
Ibera Adjustable Bicycle Bike Wall Hanger
Ibera's wall hanger design sits at a 45 degree angle and can be adjusted to keep your bike level. Designed to be mounted as a horizontal wall hanger for a single bike, saving you significant floor space. It has a maximum capacity 39 pounds, super sturdy aluminum alloy, and constructed for the purpose of providing years of durability.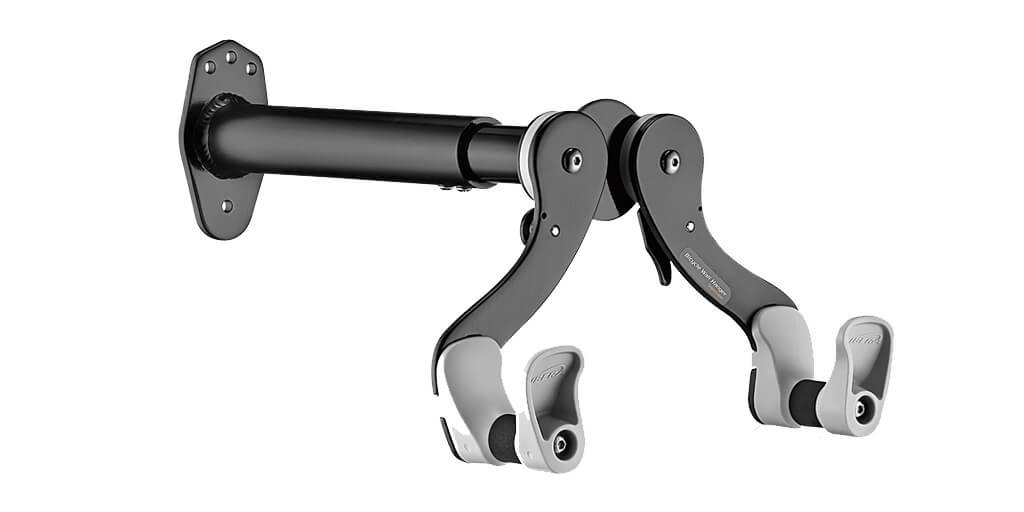 BIKEHAND YC-96
This handy indoor bike rack from Bikehand's is a simple design and sort of acts as a 'bike display.' So if you lie to showoff your bike like it's the Mona Lisa than this might be a good choice for you. However, you may need a bit more floor space for this option.
Regardless of which option you choose, we certainly recommend investing in some type of indoor bike rack option. No matter how cautious you are, simply storing your bike up against the wall can cause damage, and constant in-and-out of usage will likely make your living space a mess.
All items can be easily purchased online or at one of these three fantastic local bike shops.