Living in the borough of West Chester, PA certainly has its perks. Whether you're in the mood for a fresh baguette, a beer, or a 5 star meal, you are only seconds away from having a plethora of options to choose from. And, if you're looking for a day of relaxation, hoping to find an amazing nail spa, then
Zazen West Chester
is the place to go. Zazen Nail Spa in West Chester, PA is one of the best nail spas (possibly
the best
if you consider the hundreds of 5 Star Reviews on both Google and Yelp!) in the area.
Zazen West Chester
is one of the first businesses to greet travelers when entering into the heart of West Chester. Located in a beautiful, Chester County building right on the corner of Gay and Matlack Streets, its space is filled natural light. Some of their clients drive up to 2 hours just to indulge in Zazen's services. Why? Well…we had the opportunity to speak to Chris Balan of Zazen Nail Salon West Chester,
Zukin Realty
's Business Spotlight of the month, and here's what he had to share.
Zazen West Chester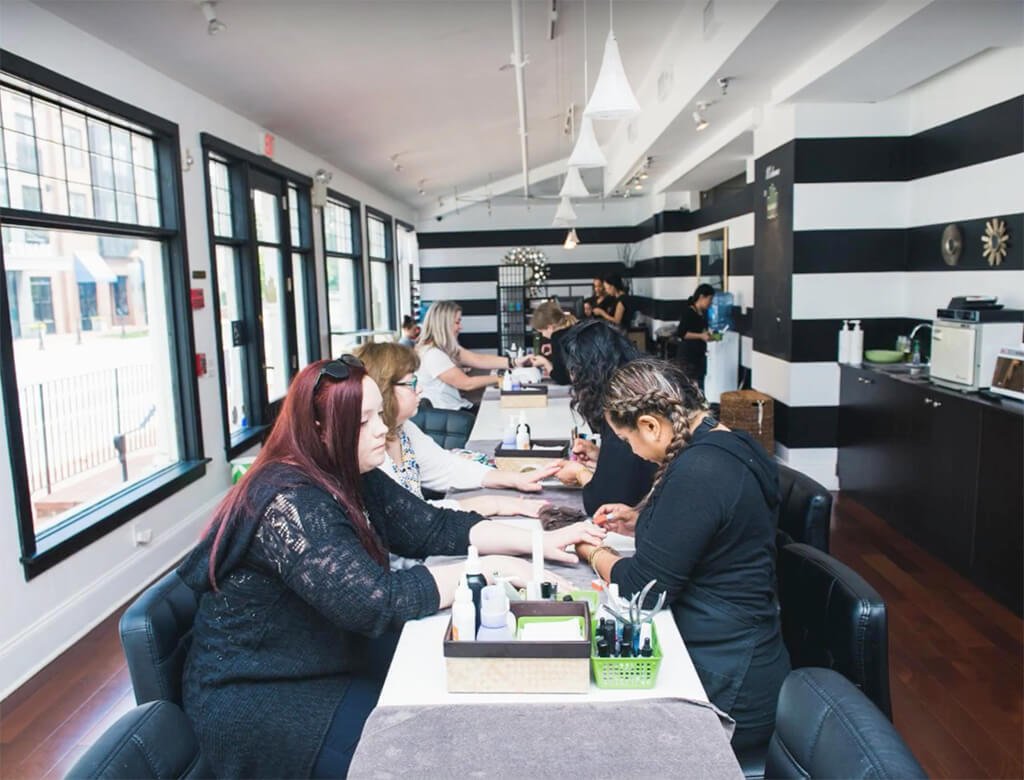 What makes Zazen West Chester different from other nail salons in the area?
Zazen specializes in Natural Nails, Lash Extensions/Lash Lifts, and Microblading. When we opened Zazen in 2010, We wanted to offer something more healthier, safer for moms and kids, and just better overall in customer service. During 2010, it was very difficult to find a Nail Salon that had great customer service, did not smell like pure chemicals, and had an appointment based booking system. We were the first Natural Nail Salon in the Chester County Area in 2010. As we grew over the years, we expanded by adding Lash Extensions and Microblading in 2014, and now Lashes/Microblading is almost half of our business.
Some of your clientele drive hours for your services. How come?
Well…first no crazy smells or toxic fumes like traditional nail salons. It's safe for both Moms and Kids alike. All our products are either natural and/or organic. In addition, you can book online on your phone. We value your time and understand how busy you are with your family or career. Also, we specialize and focus on Nails, Lash Extensions, and microblading. Clients drive up to 2 hours to come see us because we are extremely detailed. We also actually host "Nail Parties" here. You can have cocktails at our bar, while watching a fun movie with your friends and family. Our awesome staff genuinely cares about our clients. Our clients are like family to us, and we celebrate special milestones for birthdays, weddings, promotions, and anything that a good friend would do for you. Let's just say we are
obsessed
with the customer experience and take customer service
very
seriously. If a client is not satisfied with their service we will address the situation immediately. We want to earn a client's' business and build a relationship with them long term. And finally, unlike other nail salons, we have 'Seasonal Pedicures' such as the Pumpkin Spice or the Butterscotch Caramel Pedicure that our clients absolutely adore. NOTE: Above Images Property of Zazen Nail Spa West Chester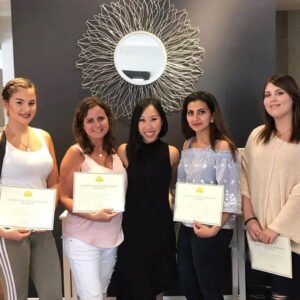 One of your services really stuck out to me. What is 'Microblading' and how does that work?
Microblading helps make eyebrows more full and natural looking. Microblading can
truly
transform a client's whole beauty routine, making them feel even more beautiful. It typically lasts about 12-24 months, and hair strokes are hand drawn individually on your brow to mimic your brows natural shape and hair color. Microblading is excellent for clients who have little to no eyebrows, may be showing signs of alopecia, or are post cancer patients with no eyebrows. We have performed microblading for over 1300 clients from PA, MD, DE, DC, NY, and NJ. Clients drive hours to receive our microblading services. It really is that amazing.
Zazen also offers 'Certified Lash and Microblading' classes. What inspired you to venture into the teaching space?
Zazen has been teaching lash extensions for over 4 years and microblading for over 2 years. When we first started doing lash extensions about 6 years ago, people kept reaching out to us to learn from us; same goes for microblading. We eventually decided to solve that problem and help others learn those beauty skills, and it has been very exciting to help others learn these amazing skills to add to their beauty routine. You can find more
information on training here
.
Looking ahead through 2020 and beyond, what excites you about the future of West Chester?
We are excited about the growth of West Chester including new shops and restaurants. West Chester has been a wonderful town with major expansion and growth for businesses, yet still has that small town/historic charm. It's amazing to see the growth of the town the past 10 years and we are excited for the future, especially for small businesses.