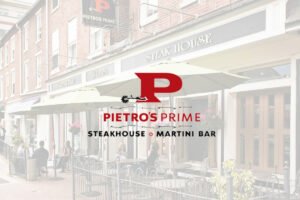 Pietro's Prime
is one of the most recognized restaurant names around, and easily one of the
best restaurants in West Chester, PA
. For over a decade, Pietro's Prime has served countless guests quite easily the best steak and seafood around. In fact, in 2019 Restaurant Guru awarded them the title of "
Best in the City Steakhouse
." We recently had the privilege of speaking with Marisa Giunta–Co-Owner of Pietro's Prime West Chester–to find out what makes Pietro's so special, and here is what she had to share.
Pietro's Prime West Chester: Simply Incredible
Note: All Images Property of Pietro's Prime
How long has the Pietro's Prime been in business?
We have been in business for 13 years. I was born and raised in West Chester, PA. I tried to move out, but…I moved right back to West Chester.
Pietro's Prime offers one of the highest quality cuts of meat anywhere around? What's the secret?
We order three times a week. Everything we have is fresh. Never do we cut corners on the quality of our foods. Our meat purveyer is a family company called Rastelli, which is a local meat purveyer right over the bridge in New Jersey.
What is a staff favorite dish that many customers may not be aware of?
Definitely the "Pork Cowboy." It is a hidden gem on the menu for sure. It's a 20oz ribeye, and it is to die for. Also, everyone knows the "Prime Rib Sandwich" is so good. It's a nice quick sandwich for lunch, but it's really something so much more than that. It literally melts in your mouth.
What excites you about the future of West Chester in the next 5 years?
We were sort of the "first person on the block" on Market Street, thirteen years ago. Now there are some awesome places like Carlino's, the Sterling Pig, and
Mercato
that really brought a lot of people who traditionally wouldn't leave Gay St. over to Market. Now with the new
Downtown Plaza
development on the corners of Church and Gay Streets slated to open in the next year, it's only going to make our downtown and community better. We never see new restaurants as a deterrent; we only see them as adding to our community.
In these strange times, are you offering Take-Out and Delivery for your patron? Any fixed hours, menu restrictions, etc?
We're here Tuesday through Saturday from 11AM to 7:30PM currently, and our
full bar menu
is available. We are 
very
hands on with our delivery. Quite literally my father and brother are delivering orders currently. We know that when you're order a $60 steak, your food deserves more care and attention. So we're keeping it in the family. In addition, we're offering our new "Grill at Home" packages where your entire meal is ready to go. You just pick up your order and grill your steaks at home. It's that easy.
Any closing thoughts?
We're just happy to be able to do what we're doing. We truly appreciate all the customers who have supported us over the years, especially these last few months, and we can't wait to re-open.