Who doesn't love a good chicken sandwich? It was only within the last two years, people were lining up for miles trying to get their hands on a Pop-Eye's chicken sandwich. Well, Blazin' J's got it's start only a few years ago, but immediately made a massive impact in the world of chicken sandwiches. Although there are many chain stores and local chicken sandwiches floating out there in the ether, franchise co-owner, Jabron Taylor truly felt there was a gap that needed to be filled. And with a little time and a lot of experimentation, Jabron came up with the J's Way Chicken Sandwich: a non-customizable, masterpiece that is sure to please even the most staunch chicken sandwich connoisseur. We recently chatted with co-founder Jabron Taylor and franchisee Gary Danehower of the
new
Blazin' J's West Chester
location, here's what they had to share for their
Zukin Realty
Commercial Business Spotlight.
BlaZin' J's West Chester, PA: Stepping Up the Local Chicken Sandwich Game
Note: All Images Property of Blazin' J's
How did Blazin' J's get started back in 2019?
Jabron
– I came up with the idea because I always wanted to open up a restaurant and I thought chicken sandwiches would be a good opportunity to start. We wanted to open it up so that we could (have the opportunity to) have a lot of growth so we wanted to keep it simple. And we just took a chance on ourselves.
So where did your recipe come from?
Jabron
– We made the recipes ourselves from scratch. It's no grandma recipe or anything. Just a took a lot of thought and time. We also didn't want to use oil or anything like that. We just took a different spin on it. We call it 'the Pennsylvania sandwich' now!
Your other 2 locations are in the Lancaster area, what made you decide to bring the legendary "hot chicken sandwich" to West Chester?
Jabron
– Gary came in (as an owner) at the right time. We started
Blazin' J's
for growth (opportunities). We always wanted to grow. We didn't do it for one restaurant. We did it, because we have a great product and we thought the world would love it!
Gary
– I fell in love with the concept. I knew Jabron and Andre from mutual friends and I said I think West Chester would do well, because it's a phenomenal place to take this concept with the college crowd and the adult crowd who like to come out. It just seems like a good fit for the concept. And there really is nothing like it nearby (in town/West Chester). I just thought, 'Why is there not a chicken place in West Chester?'
You also offer the Blazin' J's food truck, is that something you offer here in the West Chester area too?
Jabron
– We haven't decided yet. It's a food truck obviously, so it's mobile. (But if someone is requesting it) we are available to go anywhere on the food truck. My wife actually does all the booking for it.
Gary
– We would love to be available for the festivals in the area and some of the weekend events in town. Or if we can get involved with the college. We would love to be a part of that.
If folks are looking for a catering option, how much in advance should people order?
Jabron
– Catering orders can be taken care of with as short as 24 hours in advance. Depending on the day (as we gage) the temperament of our walk-in customers. But we have taken on catering orders as little as 10-12 hours depending on the size (of the order).
You offer so much convenience for your customers to order online (to skip the line) or order through DoorDash and GrubHub. Will you offer this same convenience at the West Chester location?
Jabron
– Yes, but we do prefer you go directly to us (online).
Is it true you use only fresh chicken (never frozen) for your famous sandwiches and fresh cut fries? What made you decide to focus on this quality in your food?
Jabron
– We just feel like it's a lost cause in 'fast food restaurants'. But we are a 'fresh food restaurant'. We want our chicken to be as fresh as possible. All of our chicken is naturally grown with no added hormones. So we just try and stay as fresh as we can. It's a little bit more expensive, but you can tell in the quality of it. And we are made to order with all the food. We even do all the seasoning and batter it right here at the West Chester location, you will be able to see all that happening (right in front of you). Nothing is coming out of a freezer or a truck or a fryer. You can really see it in the taste.
Do you have any weekly specials and favorite sandwiches that keep your customers coming back for more?
Jabron
– Our J's Blaze is our best seller by far. We don't have any specials in the works right now, but we will be working a lunch or dinner special (in the future). We are just seeing what everything holds here (in West Chester). Our J's Blaze comes with chicken, pepper jack cheese, pickles and house mayonnaise. We also will be offering salads at this location, skip the bun but still have all the flavor!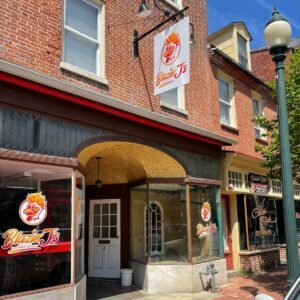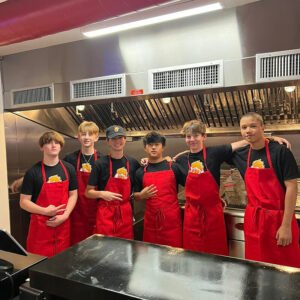 You have your four sauces (hot, mild, hot honey and blazin' hot), but I heard that if you are looking for some EXTRA heat, ask for the special sauce in the back. What's in that sauce?!
Jabron
– 2 million scale units (used to measure the heat of something spicy) of hell. LOL! We do play around with (our sauces) using Carolina reapers, you know the hottest peppers you can use. But we don't have it sitting out (you have to ask for it).
Are you going to offer any food challenges?
Jabron
– We are thinking about things like that right now. Even with our Lancaster locations. See who can eat the most chicken sandwiches, who can eat the hottest chicken sandwich. It's something we will have to work out here in West Chester. These college kids will try anything once!
It's National Chicken Sandwich Day on Wednesday, November 9th, 2022, is that something you celebrate?
Jabron
– Oh, yeah! That's a holiday for us! We want everyone lined up at our door ready to go! We will have a special that day, and get people down here.
What excites you about the future of West Chester in the next 5 to 10 years?
Jabron
– I just think the downtown area and the energy is a nice place to be. There is just such a nice selection of restaurants, bars, entertainment, and the college isn't too far from here. It's a great location for small businesses to grow.
Any closing thoughts you'd like to share?
We are better together! That's our slogan!